WBC40
Company: Radež d.d.
Headquartes: Blato, island of Korčula,
Website: www.radez.hr
Two Yanmar engines run the WBC 40 four catamaran working boats. The boat is reliable, cost-effective, multifunctional and permanent intended for continuous usage in different sea conditions.
Basic technical characteristics
| | |
| --- | --- |
| Length | 11.99 m |
| Beam | 6.80 m |
| Draft | 0.97 m |
| Displacement | 15.500 kg |
| Capacity | 13.000 kg |
| Yanmar Engine | 2x130 HP |
| Max. Speed | 7 Knots |
| Material | Iron |
Engine
This working boat runs on two Yanmar engines 6CHE3L. See engine's specifications below.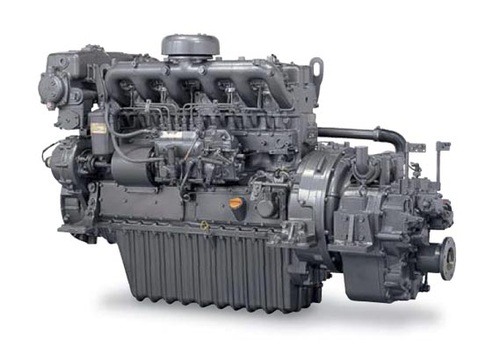 More on the boat:
There are numerous tasks put in front of working boats on fish farms. They are used to transport food and fish. It is impossible to handle, maintain and clean cages without them. They are also used to tow cages, change nets and do all work on fish farms. Their decks are places to work by the fish farms. Work catamaran 2235 has been projected to meet all these demands, but to stay in the boat category by length.
Bodies, made of steel, are additionally strengthened on the sides, containing waterproof barriers dividing each trunk in three spaces – machine room, depository and bow thruster. There is a spacious deck surface of 54m2 situated on them, with a hydraulic winch reaching up to 12.5 m and capacity to load 2 tons. There is a wheelhouse at the deck's front which can board up to 5 people. The boat is managed by a hydraulic rudder device. All deck and wheelhouse floorings are slip resistant. The boat is equipped with a sea hydrant with 250l/min capacity. It is suitable for storage of the submergible cleaner for fish farming nets robots.
There is a spacious machine room and depository in each trunk. It is easy to maintain drive machines in them. The floorings in machine rooms are slip resistant, too. There is a 1200 litre tank embedded in each trunk structure. Machine rooms are equipped with fire safety and extinguishing system. Total depository capacity is 23m3.
In past exploitations, working boats have met all demands put in front of them. They have shown great manoeuvre possibilities, while the two Yanmar engines have shown reliability.