GREENLINE 39
Company: Greenline Yachts Ltd.
Headquarters: Begunje na Gorenjskem, Slovenia
Website: www.greenlinehybrid.com
Yanmar engine is installed in the Greenline 39, too – a luxury, latest generation modern boat – which is run by one engine and has two cabins. The boat is quicker and more comfortable with Yanmar which also contributes to more value for money and reduced property costs.

Basic technical characteristics
| | |
| --- | --- |
| Length | 11.99 m |
| Beam | 3.75 m |
| Draft | 0.90 m |
| Ballast | 7000 kg |
| Yanmar Engine | 370 HP |
| Max. Speed | 25 knots |
| Material | fiberglass |
Engine
Greenline has been installed with the Yanmar engine 8LV/370. See engine specifications below.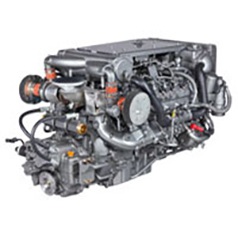 More on the yacht:
Greenline 39 continues with the Greenline boats philosophy by fulfilling the range between the two existing models of 33 and 40 feet. It offers a more modern design, two beautiful cabins, a lavish bathroom and an unusually comfortable salon. It has a side passage on the deck (for the first time), which means that the right passage is wider and more comfortable than the left. 
Unlike models 33 and 40 which run on weaker engines, Greenline 39 is available with the possibility to install the 370 HP Yanmar engine which is big enough to run a speedboat, with the maximum speed of 25 nods. 
The first Greenline with a Yanmar engine was delivered to a customer in the US and presented with success on the Fort Lauderdale Boat Show.
Every little detail was improved in the model 36 in relation to earlier models – from boarding to hydrodynamics, low consumption, high speed and stability. The body's form is based on a series of pool tests in order to get lower impedance as the guarantee of efficiency in fuel consumption and bigger sail as well as keeping the boat's high-speed potential. 
The model 39 represents the fifth generation of the Greenline body form. It targets speeds above 25 nods by keeping efficiency and stability necessary to navigate with full crew and equipment. The new boat greatly respects the environment and follows Greenline's philosophy.
With its comfortable open spaces and easy access to the sea, Greenline 39 Hybrid is equally suitable for fun and leisure on daily trips and longer cruises. Thanks to the ergonomic design, Greenline enables unobstructed connection between the cockpit and salon areas, double kitchen orientation, a panoramic view from the interior – salon and owner's cabin. The spacious owner's cabin equipped with a bed as big as at home offers a feeling of comfort. The stern cabin with two beds, a bench and a wardrobe is also high enough in the first part and has a lot of natural light. The bathroom with a separated shower cabin contributes to the comfort and privacy, while spacious salon makes the boat look bigger than it actually is. 
Greenline 39 is being manufactured in the hybrid version as well.