More 55
Company: MORE BRODOVI d.o.o.
Headquarters: Dicmo
Website: www.more-boats.hr
The first model of the new Croatian boat-makers is dedicated to monofleet charter.
Basic technical characteristics
| | |
| --- | --- |
| Overall length | 16,70 m |
| Waterline length | 14,90 m |
| Beam: | 5,00 m |
| Draft | 2,70/2,40 m |
| Ballast | 15.300/5.900 kg |
Download pdf
Motor
More 55 runs on Yanmar 4JH80 with sail drive SD 60 or Yanmar 4JH4 – HTE 110 HP with KMH44 axle line. 
See both engines specifications below.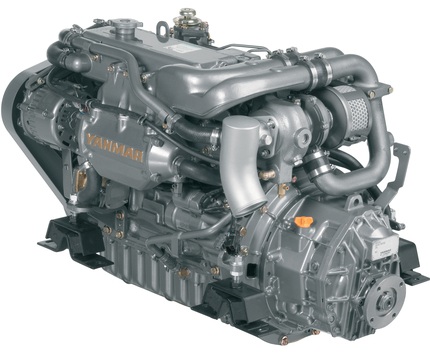 More on the yacht:
The newest Croatian project of the More brodovi company deserves attention due to its venture into entrepreneurship and engineering, especially in our circumstances. 
Navela and Yanmar have been participating in the project since the beginning. 
More 55 buyers can choose whether they want standard Yanmar engine 4JH80 with sail drive SD60 or Yanmar 4J4HTE 110HPwith KMH44 axle line at additional cost.
The company decided to implement Yanmar engines because they are cost effective and high-quality, especially for charter maintenance. 
It is enough to have a kit with the most important parts on board from destination to destination since the engines' maintenance is not expensive.
More 55 is a mix of supreme experience, from Maurizio Cossutti, one of the best designers when notable designer enthusiasts are in question, to project manager Milan Mandić and Croatian architects like Leo Čurlin, who used his great experience on this project.
Maurizio Cossutii got the assignment to reconcile a regatta cruiser with the comfort necessary for a charter boat and it seems he has succeeded. Besides, he accomplished the thing Italians have a special gift for – the boat looks great. The boat has vertical, modern lines, a low cabin that rises up to the cockpit and a lower, wide and open stern.
More 55 had to solve the question of spaciousness in the cockpit and on deck in general as well as comfortable accommodation for up to 11 crew members (with the skipper), whether they are participating in regattas or sail in charter.
This meant there are supposed to be 5 comfortable cabins with a minimum of 3 bathrooms and a salon big enough for the entire crew to cook, eat and relax in the below desk area, as well. 
The boat, also, had to have a large depository for sailboats or an additional skipper cabin. More 55 succeeded in all of this. In order for a sailboat like this to stay "alive" after 10 years and at least 200 – 250 weeks of usage, it has to be built solidly with quality material. The boat was built by vacuum infusion of vinyl ester – a norm in modern yacht building nowadays.